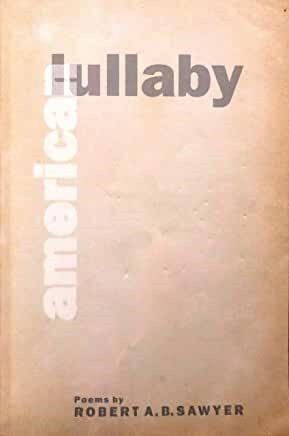 American Lullaby: Poems by Robert A.B. Sawyer. Exits But No Escape Press. January 1, 2014. Order your copy from: Shakespeare & Company here.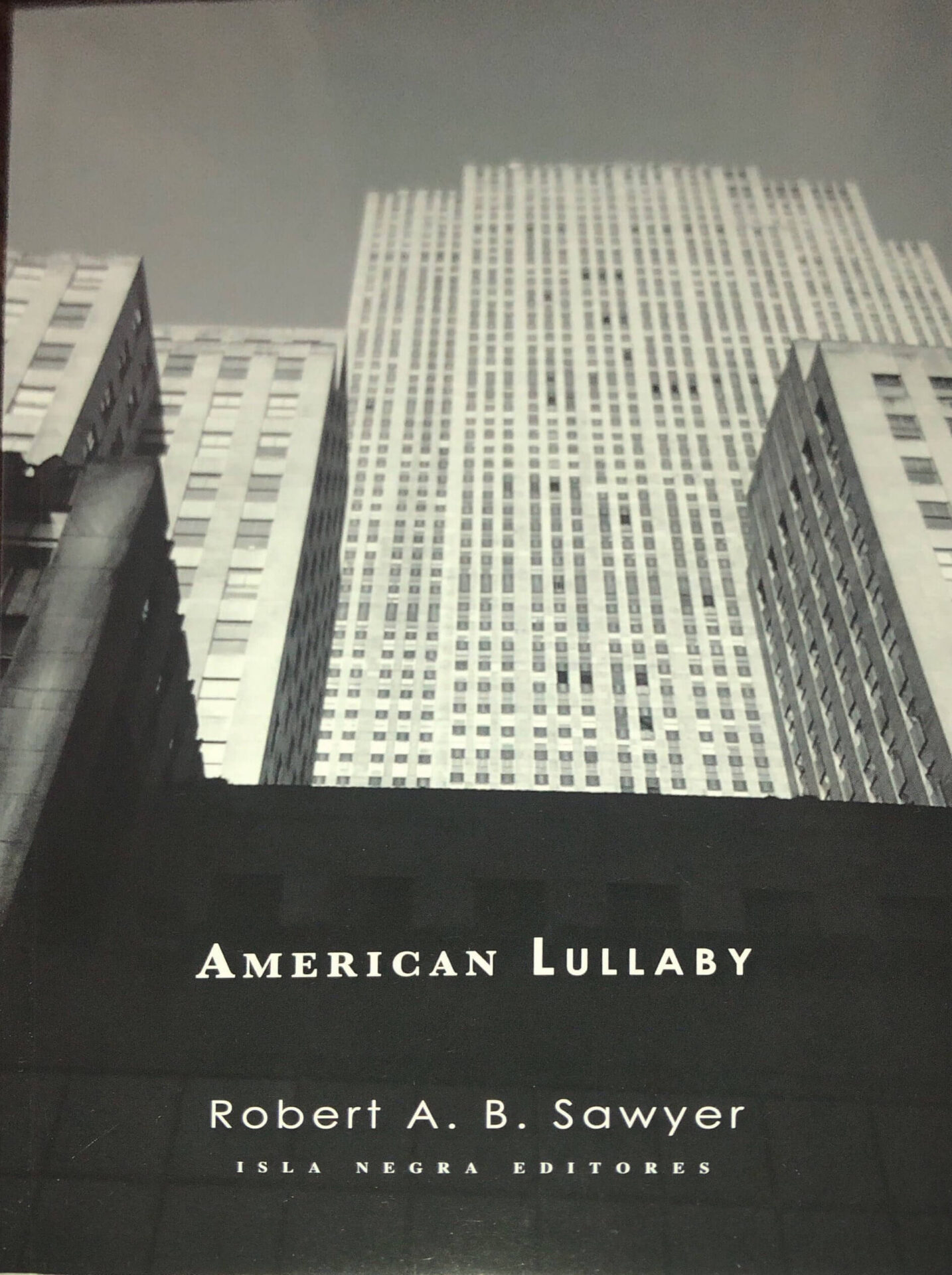 American Lullaby: Edicion Bilingue Con Nuevos Poemas. Poet Robert A. B. Sawyer (Author), Tallulah Flores Prieto (Translator). Publisher: Isla Negra Editores. January 1 2019.
1
There is no such thing as barrels of oil. No heavy crude
Drowning the world, no saccharin lighter grades so sweet
They drive mild men wild.
Go to bed my darling, there is no such thing as barrels of oil.
There are only cars made of chrome and polish, flash and speed.
One for every man, woman and child
Who dreams of the open road.
2
There is no such thing as global warming.
Or for that matter old growth forests
Whose canopies could shelter a hundred, a thousand Statues of Liberty.
There is no such thing as habitat loss or endangered species
The world is good and unchanging, my child.
In our forests and lakes and mountains and deserts
Is life beyond counting and reason.
3
There is no such thing as war
No ancient hatreds or blood at the boiling point.
We're one world, whole and indivisible.
So sleep tight in your own soft bed.
And every morning awake in your own bright room.
There has always been enough for everyone
And you will never be asked to do without.
---
Negation
The green is not the grass
The blue is not the sky
The moisture is not the woman
The flesh is not the bliss
The ink is not the pen
The paper is not the voice
The voice is not the psalm
The psalm is not the path
The path is not the road
The road is not the dream
The dream is not the life
And, not even life, is the life
---
Absolute Porcelain
From the time our flesh first impressed
We began to sink
We sank and we continued
Down through the bed
The floorboards and foundations.
Sank beneath the mud
Sank beneath the buried
Sank beneath the sunk
Sank beneath Atlantis
Sank deeper still
To absolute porcelain.
---
Hong Kong Harbor 1984
On this side of the window
A shower of chrysanthemum.
Outside, torrential rain.
From this distance the world appears mute.
But if somewhere someone is singing
It's because someone somewhere is listening.
If this were the last day of my life, would I know it?
And if I did
Would I pretend otherwise?
---
Night In Hell Revisited
1
God continues to seek us in the strangest places.
His eyes lit from within
Like pearls in their gray closets.
2
He still calls out in that hoarse whisper of his
From those alleys he prefers
The ones with no way out.
3
Without fail he appears, shimmering in wavelengths
Invisible to the eyes he gave us
And in frequencies unintelligible
To our famous brains.
---
CYRANO IS BORED
Never again will I perform
death-defying acts
Only to accept as my due
a
single
Grape.
Never will I swallow
another
sword
For my supper.
The pen is dry at last
Tra la la la la la.
I want nothing more to do
with anything that suggests
resembles
Or goes by the name
Mr. Panache.
I have reached the end of my metaphors.
Just you watch: Not even the shimmer
of her divine flesh
will elicit another superlative
from
me.
Welcome to my silent new world
where monuments are tall as inches
and
planets
round
as
minutes.
Canción De Cuna Americana
1
No hay tal cosa como barriles de petróleo. Ningún crudo pesado
Ahogando al mundo, ni sacarina tan ligera y tan dulce
Como para convertir a los hombres afables en salvajes.
Ve a la cama querida mía, no hay tales barriles de petróleo.
Sólo hay automóviles cromados, fogonazos y velocidad.
Uno para cada hombre, mujer y niño
Soñando con la gran carretera.
2
No hay tal cosa como calentamiento global.
O lo que es lo mismo, antiguos bosques
Cuyas copas podrían albergar a cien, a mil Estatuas de la Libertad.
No hay tal cosa como pérdida de hábitat o especies amenazadas.
El mundo es bueno e inmutable, hija mía.
En nuestros bosques y lagos y montañas y desiertos
La vida está por encima de la cuantificación y la razón.
3
No hay tal cosa como la guerra
Ni odios ancestrales ni sangre a punto de ebullición.
Somos un solo mundo, entero e indivisible.
Así que arrellánate en tu cama blanda.
Y cada mañana despierta en tu habitación de luz.
Siempre ha habido suficiente para todos
Y nunca se te pedirá que prescindas de nada.
---
Negación
El verde no es la hieba
El azul no es el cielo
La humedad no es la muer
El cuerpo no es dicha
Las tinta no es la pluma
El papel no es la voz
La voz no es el salmo
El salmo no es el sendero
El sendero no es el camino
El camino no es la vida
Y ni siquierea la vida es vida
---
Porcelana absoluta
Desde el memento en el que nuestros cuerpos
lmpactaron por primerva vez
Empezamos a hundirnos
Y nos hundimos y continuamos
A traves del lecho
Sobre el piso y cimientos
Nos hundidos bajo los difuntos
Nos hundidos bajo la Atlantida
Nos hundidos aun mas
Que la porcelana absoluta
---
Puerto de Hong Harbor 1984
A este lado de la ventana
Un chorro de crisantemos.
Afuera, la lluvia torrencial.
Desde esta distancia el mundo parece silencioso.
Pero si en algún lugar alguien canta
Es porque alguien escucha en algún lugar.
Si este fuera el último día de mi vida, ¿lo sabría?
Y si lo supiera,
¿Fingiría?
---
Noche en el infierno revisitado
1
Dios continúa buscándonos en los lugares más extraños.
Sus ojos se iluminan
Como perlas dentro de armarios grises.
2
Todavía clama con ese susurro ronco tan suyo
Desde esos callejones que prefiere y
Que no tienen salida.
3
Sin falta aparece, resplandeciendo en longitudes de ondas
Invisibles a los ojos que nos dio
Y con frecuencias ininteligibles
a nuestros famosos cerebros.
---
Cyrano está aburrido
Nunca más llevaré a cabo
Actos que desafíen la muerte
Sólo para aceptar como me corresponde
Una
Sola
Uva.
Nunca más tragaré
Otra
Espada
En mi cena.
Por fin se ha secado mi pluma.
Mi lengua se retiró a su ataúd.
Tra la la la la.
No quiero hacer más nada
Que sugiera
O se asemeje
O aparezca bajo el nombre de
Mr. Panache.
Mis metáforas sucumbieron.
Y ni siquiera el brillo
De su divino cuerpo
Provocará otro superlativo
En
Mí.
Bienvenidos a mi nuevo mundo silencioso
Donde los monumentos son tan altos como las pulgadas
Y
Los planetas
Tan circulares
Como
Los minutos.
Additional Poems In English
FALLEN (On Broadway)
"I wish I understood the beauty
in leaves falling. To whom
are we beautiful
as we go?"
David Ignatow
From Three In Transition
Will I end up like him, oblivious to time and place
Furiously scratching at a small square of paper?
Better him than the woman squatting between parked cars.
Or like that tiny man, who having misplaced everything else,
Decided his shoes were dispensable too.
It's hard to be part of another's fall.
Fall is the only word for it.
Even from a distance it's unnerving. Isn't it?
And aren't we ashamed of our response to it?
How we wish they'd go away, bad dreams and all.
Still, it's hard to see so many falling.
Hard to imagine how anyone can be so alone
Here in a world that sings of little else but love.
---
FALLEN 2
A man on fire
A woman, shrunken as a dying cat
A child beating his arms like a bird
"Cockadoddledo."
They emerge like hornets from behind a wall.
Each one inhuman.
Each one more monstrous than the last.
I could say, "Isn't it just like a pageant?"
But we both know better than that.
Only a fool sees beauty in them.
Only a liar sings their praise.
Can a person really be transparent
Or a woman turn to stone?
When a people are exhausted
Anything is possible.
Watch as one man spontaneously combusts
While that woman blossoms into allegory.
---
GIRL IN A CHOCOLATE SHOP
She's unhappy
And in a chocolate shop, too.
Of course
One shrugs.
Irony is pretty much the order of the day.
Still one wonders
Why?
A broken nail?
An impatient customer?
Or has she grown bored with chocolate
As one tires of too keen a lover.
She takes a length of ribbon, pulls it as long as her arm
She ties a bow.
I like to think that when she hands the box
She smiles.
Those expensive chocolates will make someone happy.
This girl could play Leporello
to some Don Giovanni
Certainly a reward waits in heaven for people
Who water a budding romance
Hasten a reconciliation.
I hope, she doesn't end her day with a piece of toast
A bowl of condensed soup.
I watch her
Stretch
Another length of blue ribbon
Tie another bow.
Still unhappy.
Was another customer rude?
Who would blaspheme the Gods
By showing impatience in a chocolate shop?
Then again it's possible
She's grown to detest the scent of chocolate
As they say prostitutes tire of flesh.
Or is it simply that being trapped inside a candy store
Is too unbearable to endure
Like having your cake and eating it too.
(Ile Saint Louis, May 2004)
---
GOOD NIGHT
To find His light
I made my own dark.
Although I'd been assured
It was extinguished some time ago
I continue on.
I move through my dark
By touch, by smell, by instinct
By fear, by hurt, by doubt
By bruise, by cry, by blood.
I continue on.
The universe expands or contracts
Explodes or implodes
Its entirety contained on a black board
Marked by white scratches.
I continue on.
I am not discouraged that the sun sets
Or by that same treacherous sun's return.
Light, dark, dark, light, neither illumines
Or conceals my way.
I continue on.
---
HOW I KNOW SHE'S COMING HOME                                                                      For Jodi Lister
Her apricot soap French milled and expensive
Is wrapped in violet tissue paper
And hidden in the medicine cabinet.
In the dish on the sink she left behind
A bar of Ivory.
Plain and substantial as a baseball
That's for me.
Five thousand miles away
And she does not want me to use her soap.
I unwrap it and hold it as carefully
As an antique netsuke. Its perfume
Rises like a summer morning
Reaching through a screen door.
When she's here I receive strict instruction
Not to use her creams, shampoos or powders.
Although I may touch any part of her body I please
Her beauty products are taboo.
Yesterday, it removed bus exhaust and sweat
Leaving her face soft and damp,
So when I kissed her it was like touching moss.
Today, I run water, make a lather and inhale.
Although it's my face that looks back from the mirror
It is her scent that slips into the room
Like a secret hushed from the lips that held it.
---
WINTER WALK NO. 1, 1995
These trees, stripped bare.
I feel so embarrassed for them.
Is it because I also know what it's like
To extend an empty hand?
DONALD SAWYER'S DEAD OR THE LAST OF THE GRAY FLANNELED MEN
"Buffalo Bill's defunct"
e.e. cummings
Donald Sawyer's dead.
Who used to stay at the Hilton, Sheraton, Palace, Plaza, St. Regis
And ate at the Palm, Sparks, Gallagher's, 21 and The Four Seasons.
Who wore worsted, twill and gabardine in solids
Pinstripes, glen plaid and herring bone.
The man liked blondes, brunettes and redheads
Tall slender church-going women
Exotic voluptuaries who charged by the hour.
Housewife, coed, salesgirl, brand manager
Chic or raw, it was all the same to him.
He dreamed and kept his dreams to himself.
The man worked, built, gambled, won, lost, began again
And again made it and again threw it away.
He sang for his supper, picked a few pockets
Boasted, bragged, betrayed, and betrayed
In the end, alone, paid the devil his due.
Donald Sawyer's dead
Who walked in Church's, Florsheim, Gucci and Bally
Who flew on PanAm, Delta, American and United
And drove a red Triumph, a black
Lincoln, a white Mercedes, and when I saw him last.
A borrowed sapphire Jaguar.
He dreamed and kept his dreams to himself.
---
ENAMELED TWILIGHT
This place, so real, it appears artificial
Like the painted backdrop
Of some Technicolor musical
Where real was simply not good enough.
Here too are colors too true —
Blue without a drop
Of anything that isn't blue.
The sky, sapphire
And the gently rolling spaces
Enameled with a hard ice shell
The blue of a weak gas flame.
And these trees too are blue.
Bereft of song and sway
They tremble against a transparent sky
Like hands reaching for a moment
More of life.
The park's enameled.
Above it, nothing flies,
Across it, nothing moves
Except for this polished ribboned path
And my own darting brown eyes.
---
IN A CHURCH BY CHANCE
I am so tired of being observed
Of holding my tongue
And hiding my nakedness.
I've seen enough.
I've heard enough.
I've endured too much.
But, before I go, tell me.
Why are bright objects
Never bright enough?
---
LEGACY
For Murray Schneiderman
We die with empty hands
That was your final lesson.
You might have taught:
We live with empty hands.
But that would have been too abstract
A gesture. Instead,
You promised me every bright object, everything
Sweet, everything ripe, but left nothing
Having lost everything
You accumulated over 80-odd years.
Love was your excuse to hide the truth
That we expand, contract, and in the end
Have nothing to show for our pain
But our pain.
Now, a year after your death,
I am no closer to understanding how things are lost
Or why it is necessary
We must lose them.
---
MOON FROM THE CORNER OF CHARLTON AND 6TH AVENUE, SEPTEMBER 19, 2002
For Charlotte Barnard
Ladies and Gentlemen, I direct your attention overhead.
Ladies and Gentlemen, I present to you a marvel.
Ladies and Gentlemen, I give you your moon.
Are there no taker?
No one among you who will steal a glance.
Ladies and Gentlemen I implore you.
What has she done to be so reviled?
This spent coin.
Shorn collaborator.
Empty promise.
Ladies and Gentlemen, I offer for your pleasure
Ladies and Gentlemen, step right up and see for yourself
Ladies and Gentlemen, for one night only
This broken heart.
This downcast eye.
This frozen tear.
Ladies and Gentlemen, there's nothing to fear.
Look into this blind mirror
And see yourself as you really are
More than a fragment but less than whole.
---
THE THREE GORGES OF THE YANGTZE RIVER
Dynasty after dynasty after dynasty
From Xia and Tang, through Mao and Yuan
Poets have praised these rocks
And the fierce river that made them.
But poets are lazy and avoid hard work.
To them rivers are metaphors
Wrecked ships and drowned fishermen are metaphors.
The tears of wives and mothers are beautiful.
Their desperate cries and screeches make a kind of music
Which in poems are frequently described as beautiful.
But from this point on there will be no music.
No more metaphors or, for that matter poets.
Qutang, Wuxia and Xiling will disappear
Behind the monstrous Three Gorges Damn.
And the water, for all its centuries of howling, will be calm.
"No music." Perhaps I overstated my case.
Metaphors, like energy, won't be destroyed or transformed.
As for beauty, we shouldn't be surprised when poets find it
In displaced people, drowned villages, engineered landscapes.
After all, what possible use is there in suffering except to
To inspire words so full of feeling that they break into song.