The Infinite Pain Caused By An Infinitesimal Distance
Tear sheets were delicate, and paper ads, torn from magazines or cut from newspapers, were prey to sharp points, ink stains, unwashed hands, and coffee rings. At first, we slipped the work into plastic sheets enclosed in folders of various quality. It was less than ideal—the sheets yellowed, grew brittle. They couldn't accommodate different-sized ads.
What's more, even hands with the best intentions removed the ads, and many of those same hands lacked the dexterity to slip the work back without creasing or tearing the paper. The worst of it? Creative Directors plowed through dozens of books at once; habitually flipping through them. He or she stopped only when an image caught his or her eye, or when a headline made them smile.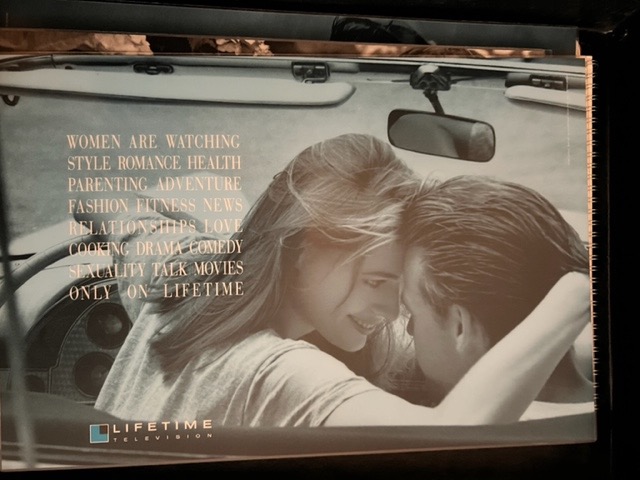 At some point, we laminated our work. What we didn't realize was how these prophylactics set the work farther from the eye. Yes, only an infinitesimal distance, but just far enough to silence the charm, the pull, the music of the copy. The irony: the plastic discouraged engagement, no matter how alluring the ad or seductive the copy.
Locked in plastic, unpleasant to touch, stripped of its aura, the damage was done. What we copywriters never imagined was the unintended consequence of our fastidiousness: Prospective employers more often than not ignored our words and the stories we told, and instead took the object in hand to see if it looked like something they'd like to make their own.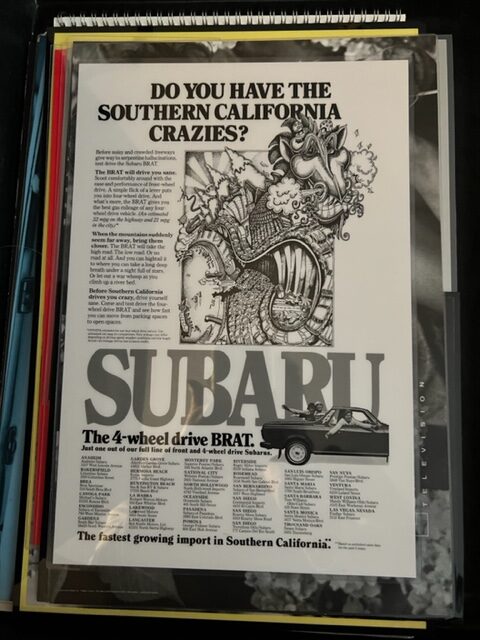 Virtually indestructible, in recent years, this work has been carried out of the city by the ton. I imagine there are unimaginable quantities of laminated ads and other paper work, shipped upstate and buried in landfills.
But I also suspect tons of these relicts remain, possibly still in their black boxes, pushed under their beds or in the back of closets. In time they will be discovered by the children and grandchildren of former copywriters and art directors, who will see them for what they are, and without a second glance, dispose of them in the most environmentally responsible manner.
Illustrations
E! Entertainment Television. Ahern New York, w/ Stacy Gray and Robert Bollinger, for Lifetime Television.
Revlon. Arnell/Bickford (Later Arnell Group) w/ Peter Arnell and Lucy Sisman.
Subaru. Hall & Levine, Los Angeles. (My first ad, preserved for eternity).